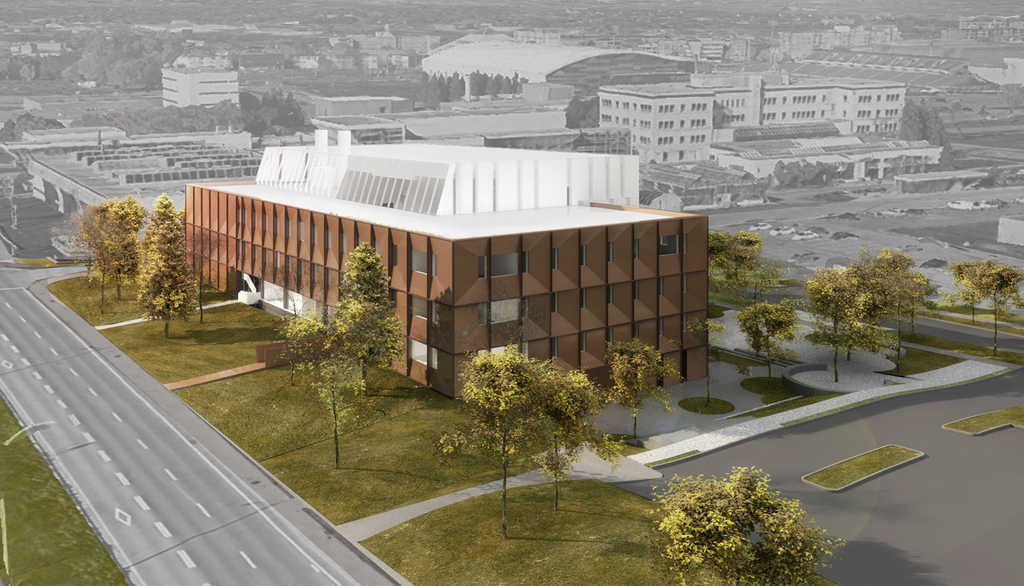 Québec City, May 26, 2023—The Government of Canada and the Government of Québec have each announced $8 million in additional funding to complete the financing required to build the Institut nordique du Québec (INQ) science complex. A call for tenders for the construction of this $105 million project on the Université Laval campus will be launched shortly.
Slated to open in 2026, this science complex, the only one of its kind in Canada, will serve as a North American hub for collaborative northern and Arctic research. It will house state-of-the-art analytical laboratories as well as a logistics centre for preparing maritime and land missions to the Arctic. In addition to facilitating large-scale interdisciplinary research projects, the complex will also foster synergy between the academic, private, and public sectors and enrich the training of a new generation of researchers.
The convergence of knowledge at the 9,865 m2 facility will generate multiple research spinoffs while at the same time prioritizing social acceptability and community participation and placing community knowledge at the heart of research activities. The complex will house a multipurpose room, a performance and creation space, and an event and exhibition hall that highlights First Peoples' aspirations and northern issues.
A $105 million signature project
Under prior federal commitments, $25.6 million had already been allocated to the science complex. The additional $8 million announced today brings the total federal contribution to $33.6 million. The provincial government, for its part, is contributing a total of $42.13 million—with allocations of $27.5 million and $8 million from Société du Plan Nord and a $6.63 million contribution from Ministère de l'Économie, de l'Innovation et de l'Énergie's program to support research and innovation bodies.
As for Université Laval, it has committed $29.27 million, which will come from other partners and donors. Of this amount $12.5 million has already been confirmed: $5 million from the City of Québec and $7.5 million from philanthropic sources. The total budget for the INQ project is $105 million.
"This new facility will play a central role in promoting northern and Arctic research, positioning INQ and Université Laval as key players in the field. It will be a tangible symbol of Québec's leadership in this area and an international hub for dialogue and discussion to promote the sustainable development of the North," said Université Laval rector Sophie D'Amours.
The announcement was made at a press conference held during UArctic's annual meeting, an international event hosted this week by INQ and Université Laval.
As part of the University of the Arctic's fourth assembly, welcoming representatives from 15 countries, the Honourable Dominic LeBlanc, Minister of Intergovernmental Affairs, Infrastructure and Communities, the Honourable Jean-Yves Duclos, Minister of Health and Member of Parliament for Québec, Jonatan Julien, Minister responsible for Infrastructure and the Capitale-Nationale region and Member of Parliament for Charlesbourg, Maïté Blanchette Vézina, Minister of Natural Resources and Forests and Minister responsible for the Bas-Saint-Laurent and Gaspésie-Îles-de-la-Madeleine regions, and Joël Lightbound, Member of parliament for Louis-Hébert, in the presence of Sophie D'Amours, Rector of Université Laval, announced a joint contribution of $41.6 million to Université Laval for two major projects. In addition to the $22.6 million for the Institut nordique du Québec, $19 million has been granted for the Carrefour International Brian-Mulroney. These infrastructure initiatives strengthen Université Laval's leadership in northern and international studies.
About Institut nordique du Québec
Institut nordique du Québec (INQ) is a hub of Québec expertise in the broad fields of northern and Arctic research created to support the sustainable development of the North. The INQ vision reflects its partners' desire and determination to develop a sustainable North based on a foundation of knowledge. By integrating scientific knowledge with that of local communities, including Indigenous knowledge, in partnership with the public and private sectors, INQ seeks to develop the Canadian Arctic and northern Québec for future generations, providing clean energy, healthy ecosystems, viable infrastructure, economic prosperity, vibrant cultures, and education and healthcare systems that meet their needs. INQ brings together 15 Québec university institutions, some 250 researchers and 90 research centres at these institutions, representatives of the four Indigenous nations of northern Québec (Inuit, Cree, Innu, and Naskapi), and numerous public and private sector partners. 
-30- 
Source:
Public Relations and Protocol
Université Laval
medias@ulaval.ca
418-656-3355
Download images