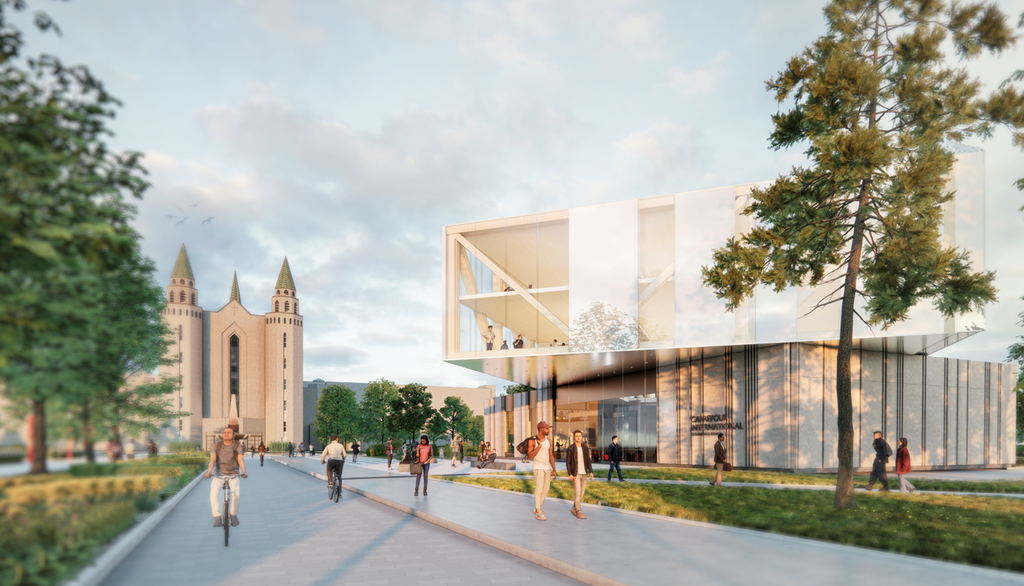 Québec City, May 26, 2023 – Université Laval is receiving $19 million from the Government of Canada to fund the new pavilion that will bring the campus's international studies researchers and academics together under one roof. This major funding was provided through the federal-provincial integrated bilateral agreement. This Investing in Canada Infrastructure Program supports projects that grow our country's economy, increase the resilience of our communities, and improve the lives of Canadians.
Rector Sophie D'Amours is delighted with this announcement, which will bring Université Laval closer to completing Carrefour international Brian-Mulroney. The building will namely house the Graduate School of International Studies, a flagship francophone school that brings together more than 70 faculty members from a dozen different disciplines. This unique school in Canada offers multidisciplinary graduate programs led by professors with varied expertise. 
"I thank the Government of Canada for this major contribution that will help us position our university as a francophone centre of excellence in international studies," said Sophie D'Amours, Rector of Université Laval. "Carrefour international Brian-Mulroney will certainly help make our university campus even more dynamic and attractive. It will allow us to offer meeting and collaborative spaces so that together we can have a greater impact on society," she added.
Note that a major investment by Ministère des Relations internationales et de la Francophonie (MRIF) was also announced in June 2022 to fund this project and enable MRIF to provide training for its staff. This forum for the exchange and transfer of knowledge will help train highly qualified people who will help find innovative solutions to international challenges.
A major fundraising campaign was launched last October to make this centre of francophone expertise in international studies a reality. Chaired by the Right Honourable Brian Mulroney, the campaign has a target of $80 million. With this new government funding, Université Laval has met 75% of that target. The $60 million already raised comes from the public and private sectors. The hiring of new professors and the creation of new research chairs were made possible thanks to the support of generous donors. 
"I am extremely proud of the federal government's commitment and the progress of the Carrefour international Brian-Mulroney major fundraising campaign," said the Right Honourable Brian Mulroney. "Our governments are sending a strong message to the public that we must invest in projects that will benefit Québec and Canada as a whole so we can showcase our expertise and defend our interests on the international stage."    
This project will bring the academic community together and position Université Laval strategically as an innovation hub for teaching and research on international issues in various disciplines.  Carrefour international Brian-Mulroney will be an indispensable lever for Québec and Canadian leadership with regard to collaboration between academics, public decision-makers, and non-governmental organizations.
As part of the University of the Arctic's fourth assembly, welcoming representatives from 15 countries, the Honourable Dominic LeBlanc, Minister of Intergovernmental Affairs, Infrastructure and Communities, the Honourable Jean-Yves Duclos, Minister of Health and Member of Parliament for Québec, Jonatan Julien, Minister responsible for Infrastructure and the Capitale-Nationale region and Member of Parliament for Charlesbourg, Maïté Blanchette Vézina, Minister of Natural Resources and Forests and Minister responsible for the Bas-Saint-Laurent and Gaspésie-Îles-de-la-Madeleine regions, and Joël Lightbound, Member of parliament for Louis-Hébert, in the presence of Sophie D'Amours, Rector of Université Laval, announced a joint contribution of $41.6 million to Université Laval for two major projects. In addition to the $19 million for Carrefour International Brian-Mulroney, $22.6 million has been granted for the Institut nordique du Québec. These infrastructure initiatives strengthen Université Laval's leadership in northern and international studies.
-30-
Source:
Public Relations and Protocol
Université Laval
418-656-3355
medias@ulaval.ca
Download images